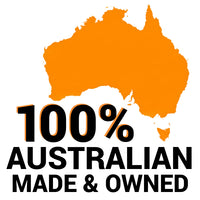 Proudly Australian Made & Owned
We're proud to be an Australian manufacturer. All of the EZY Q fire pits and BBQs are made right here in Sydney, NSW.
Choosing Australian made, EZY Q products over imported varieties benefits the Australian economy and protects local manufacturing jobs. We use Australian made, Bluescope steel for all of our mild steel fire pits.
We've designed our products for our fellow Australians to take along on their exploring adventures and to bring family and friends together while enjoying the great outdoors.
FREE SHIPPING ON ALL ORDERS!*
We offer FREE standard delivery, Australia wide* for every order to a residential or business address.
*This excludes deliveries to PO Boxes, Post Offices, Parcel Collect & Secure Parcel Letterboxes.
More Information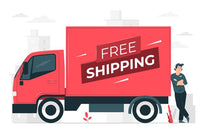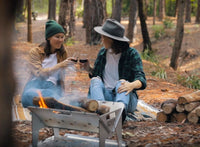 FLAT PACKED FIRE PITS
Our fire pits simply slot together with no tools or bolts required. Being flat packed and light weight, it makes them perfect addition for exploring the great outdoors. The collapsible design means they are also ideal for chilling out in the backyard as they take up minimal space when you're finished and  want to store them away.
Available in mild or stainless steel, depending on your budget and needs. We also stock a range of grills and accessories to upgrade your fire pit into a BBQ or spit.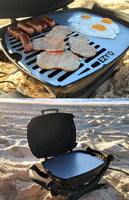 WEBER HOT PLATES
Replace your standard Weber grill for a solid, stainless steel hot plate - Now you can easily cook eggs, vegies and pancakes!
Available for the
- Baby Q (Q1000/1200)
- Weber Q (Q2000/2200)
- Family Q (Q3100/3200)
Easy to clean and maintain! Lightweight, paint and chemical free.
VIEW COLLECTION HERE
Testimonials
"Easy to assemble, use, clean up and put away. Followed the oiling up advice and the unit looks good, no signs of rusting even though left out in the dew, all panels remained straight even though we had some really good coals in there. Great item."

Murray, QLD
"I would like to thank you & your team for our BBQ we all love it have used it three nights in a row to cook on and toast marshmallows. The speed at which you were able to get it done was amazing.

Very happy customer."

John, NSW
"Hi We bought one of your small outdoor BBQ's last week. Friday night had a great time sitting beside it in the backyard. We bought the tray to go under which worked well. I would like to congratulate you on your site. It worked so easy and quick. Took 2 days to get here and 5 minutes to set up. Very impressed."

Sue, QLD
"Hi, We bought a 600mm Firepit in the 5mm steel with the stainless steel BBQ plate. 

Just wanted to say how delighted we were when it arrived.  Easy to set up and a good quality product. 

Thank you."

Derek, QLD
"Got one of these beauties with custom end panels and got it same week. Just fantastic!"

Lindsay, QLD
Just wanted to say a massive thank you.... we received our fire pit today (5mm plate). Super fast delivery time and wow, so impressed with the quality. So glad we decided to buy Aussie made. Awesome product 👍🏼😁

Julie, WA
"Hi, I just wanted to say thanks so much for such speedy shipping! We are going away tomorrow, and only ordered on Saturday. Our Ezy Q got here yesterday morning.

Legends! We're so excited to use it now!

Thanks again."

Sara, NSW
Hi Guys.

Just wanted to say we love our new fire pit.

All we hoped for and more.

Great product.

Derek & Lenore, QLD
"We got the 5mm fire pit, grill and canvas bag (600mm long) bundle and could not be happier. Quality product with a great finish. Perfect size for our family! Amazing service and quick, well communicated delivery. We love our EzyQ, Highly recommended!"

Brent, VIC
FREE SHIPPING, AUSTRALIA WIDE ON ALL ACCESSORIES!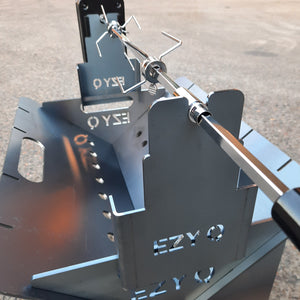 Turn Any Fire Pit Into A Spit
Clip the two brackets over the ends of your EZY Q fire pit and attach the rotisserie kit.
The Rotisserie Kit is battery powered, so no power outlet is needed - ideal for camping and outdoor use.
VIEW HERE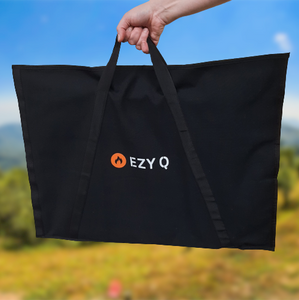 Heavy Duty Canvas Bag
It's the perfect companion for your fire pit or BBQ . Made from 16oz canvas material, its a handy, heavy duty carry bag.
Protect your car and storage areas from grease and oil. Makes carrying your fire pit a breeze!
VIEW HERE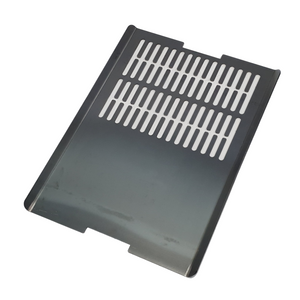 Grills, Ember Catch Trays & Extra Pan Support Bars
We have a range of grills, ash trays and other accessories available so if you need anything extra, we have you covered!
Accessories are available for our firepits at 400, 500 and 600mm long.
VIEW HERE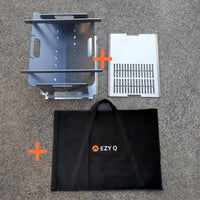 BUNDLE & SAVE!
We now have a range of bundles where you can get a great kit at a reduced price.
We have selected our best selling fire pits and have added grills or heavy duty canvas bags to make ordering easy!
Shop Now