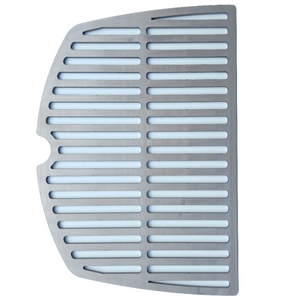 NOT COMPATIBLE WITH THE NEW 'N' RANGE (RELEASED SEPTEMBER 2023).
STAINLESS STEEL - Half Grill Plate
For Family Q (Q300/Q3000/Q3200 Series)
2 OF THESE PLATES CAN BE PLACED INSIDE THE WEBER TO MAKE A FULL GRILL.
**Weber is a registered trade mark of Weber Stephen Products LLC. EZY Q is not affiliated with Weber Stephens Company in any way and these hot plates are not an original Weber product.**
5MM THICK
Replace your cast iron Weber grill for an easy maintenance stainless steel version - now you can cook eggs, vegies and pancakes on the solid hot plate, and meat on the grill!
These hot plates are paint and chemical free, and unlike cast iron, they are non-porous, meaning they are easy to clean off and will not retain flavours from previously cooked meals.
Please Note: These are manufactured from ferritic stainless steel with an industrial finish, they are not polished and do not have any surface treatments so they are safe to cook on. Your hot plate/grill may have some scratches or marks from the manufacturing process and machinery. Like all steel, it will accumulate more scratches and surface imperfections from general use.
SIZE: 455 x 316mm (These plates are flat/level)
WEIGHT: 2.75kg 
STEEL THICKNESS: 5mm
These hot plates are made from a specially formulated grade of stainless steel which is ferritic. After much research and testing, we have chosen to make our fire pits and grills from this type of steel as it is magnetic, and has a higher carbon content than the more common 304/316 stainless steels. This means it has good thermal conductivity so it distributes heat more evenly across the plate, making it great for cooking. It also offers a more non-stick surface than other types of stainless steel. 
Care Instructions:
We do recommend that you lightly coat the grill with cooking oil and place over the heat for a couple of minutes to quickly season the plate before you use it. This burns off any impurities, improves its non-stick surface, and increases the protective barrier against any corrosion. Wipe off any residue with paper towel – please wear heat protective gloves for this - and you can start cooking.
To clean it after use, scrape off any remaining food while it is still hot. If it needs a more thorough clean, you can pour a small amount of water onto the hot surface and buff it with a cleaning sponge. CLEANING IT THIS WAY MEANS THE WATER WILL BOIL AND BE VERY HOT – PLEASE USE GLOVES THAT PROTECT AGAINST HEAT & STEAM. Dry the plate before storing it away.
-
IMPORTANT INFORMATION:
Stainless steel will brown over time and will discolour where it is in direct contact with flames or high heat.
We advise that you cook on low to medium heat - more intense, high heat can damage the plate if used over extended periods of time.
In comparison to 304/316 stainless steel, ferritic stainless steel contains a slightly lower percentage of chromium and nickel, making it a little less corrosion resistant than the more expensive 304 or 316 grade S/S, but heat and oil from cooking on these plates helps to create a protective layer against corrosion. We recommend that you

 

coat the grill with cooking oil and place over the heat for a couple of minutes to quickly season the plate before you use it (wipe off any excess) and start cooking. Also, it helps if the plate is dry before you store it away.
Stainless steel has sharp edges, please take care when handling the plate.
These may have marks or scratches from the manufacturing process, see below for some examples. These marks and surface imperfections do not affect the use of the hot plate.
Manufactured in Australia from Stainless Steel sourced from South Africa.